---
Annual Returns of Our Recommended Portfolios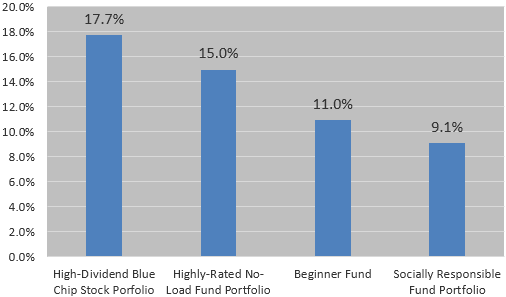 More info:
High-Dividend Blue Chip Stock Portfolio
Highly-Rated No-Load Fund Portfolio
Socially Responsible Fund Portfolio
---
Annual Returns of Our Stock Screens
More info:
---
---

Return data updated on Janualry 3, 2016


Annual Returns Of Short-Term Stock Screens
(Available Apart From Our Monthly Subscription)

Most of our subscribers are long-term investors, but we do offer stock-screening criteria for short-term trading separate from our monthly subscription ... More>>
---
Our investment newsletter's Primary Stock Portfolio has 31.9% per year since 1998. The average gain for each stock sold in this portfolio is 73.5%.

Our model mutual fund portfolio is returning 15.5% per year.

We are constantly searching for the best rates for money market funds and interest-bearing checking accounts. Our findings: an interest-bearing checking account paying 3.00% and a checking account with no limit paying 1.25% .

The average option (past and present) in our Option Portfolio has risen 110.9% with the average holding period being a little more than 8 months. LEAPS (Long-Term Equity Anticipation Securities) are occasionally recommended along with options of shorter length. Because options can be very risky, we are extremely selective about the recommendations we add to this portfolio. Therefore the number of options in this portfolio is very low with only a handful being recommended at most. At times, no options meet our criteria for qualification into this portfolio.
| | | |
| --- | --- | --- |
| | We offer an on-line investment newsletter recommending a variety of portfolios. Sign up now for a Monthly Subscription. | |